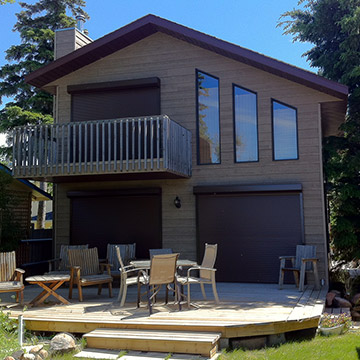 K & F ROLLSHUTTERS EDMONTON
Protect your home or business and add value with a sturdy and stylish rollshutter system by K&F Rollshutter Manufacturing, Edmonton's only rollshutter manufacturer. Our European-inspired, German-engineered Alulux rollshutters are designed to the highest standards, and can be custom manufactured to meet almost any design need. Whether you're looking to add value to your home and cabin, integrate rollshutters into a new build, or to protect your office or business, K&F has the rollshutter you need to take advantage of the great benefits rollshutters offer.
Energy efficient – Rollshutters help prevent the loss of heat and warmth through windows saving you money on heating and air conditioning.
Added protection – Rollshutters resist pry bars and intrusion, deterring break-ins and adding to your peace of mind.
Stylish and comfortable – With a variety of colours of finishes available, rollshutters are an elegant and attractive way of adding value and security to your home or cabin.
"I was extremely impressed with the installation and the final product which works flawlessly. I am a shift worker and enjoy the cool, quiet darkness when sleeping in the daytime. I would not hesitate in referring my friends to your business and plan to finish the remaining windows in my house in the same manner" – Dennis Monpetit
"K&F Rollshutter has provided me with the best service I have ever had over the years while building my house. A big 'thank you' to the K&F team!" – Terry Hutseal
"Just would like to say that your installers were very professional, polite, and did a great job. This was by far one of the best contractors I have ever hired, from the phone call to the install. Thank you!" – Dwayne Babee
"Just a quick note of thanks for the speedy dispatch of, and professional service from your repair team. They return to base with a cheque and my gratitude. Even though the product in question was more than 30 years old, they were able to effect and adequate fix and there is once again sunshine in my living room. " – Mark Nixon