For over forty years, rollshutters have been taking Europe by storm, offer a stylish and functional alternative to traditional window coverings thanks to the added security and energy savings they offer. K&F is happy to have partnered with leading manufacturers of rollshutter components to bring rollshutters to Canada. Custom-designed and built for your specific needs, our rollshutters are the perfect alternative to curtains and blinds, and are perfect for a variety of residential, storefront, and commercial applications.
When it comes to light control and comfort, nothing can match a custom-made rollshutter by K&F manufacturing. Forget about flimsy curtains and rickety blinds that let light and noise bleed through. K&F rollshutters give you up to 99% and exceptional noise reduction, and come in a variety of colours and finishes to give you the exact look you want. With a plethora of control options from manual operation to wall switches to remote controls,we can customize every aspect of your rollshutter while still providing you with all these great benefits:
Stop drafts and snow from reaching your window to save on heating during winter.
Keep the warming sun out during the summer to save on A/C.
Deter vandalism and theft while protecting glass with sturdy aluminum construction.
So stay warm in the winter and cool in the winter, with added security all year long with a K&F rollshutter. Contact us today to learn more.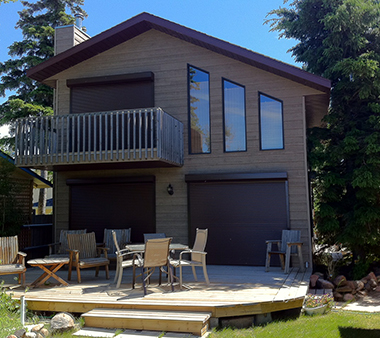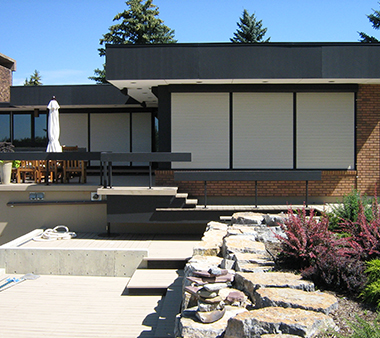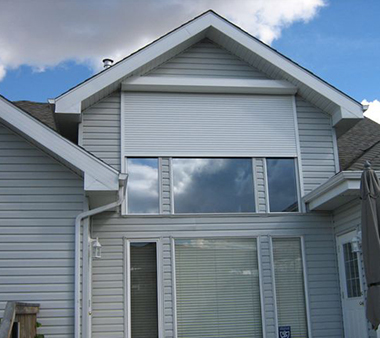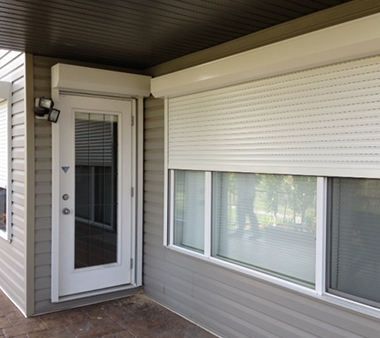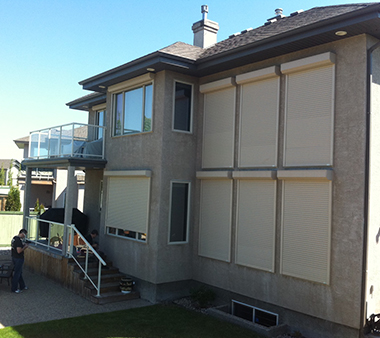 Shut out would-be intruders and vandals with the superior security offered by a sturdy and reliable rollshutter. Strong aluminum shutter slats lock together to form a solid barrier that resists prying and impact, protecting not only your windows and glass, but your products as well. K&F will custom design and build your storefront rollshutter to your exact specifications and needs, so you know there will be no weak points from generic, one-size-fits-all products. Then our experts install your system to the highest standards for maximum protection. With traditional manual lock-and-key entry or motorized systems available for added convenience, K&F has the secure rollshutters you need to keep your business safe and secure during off-hours. Contact us today to book an appointment.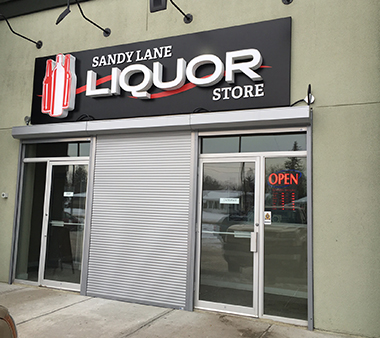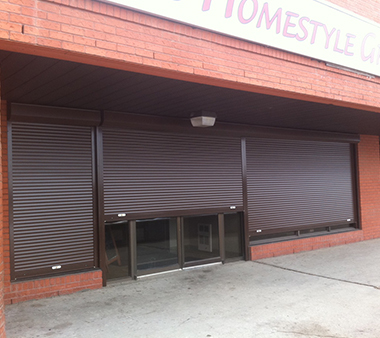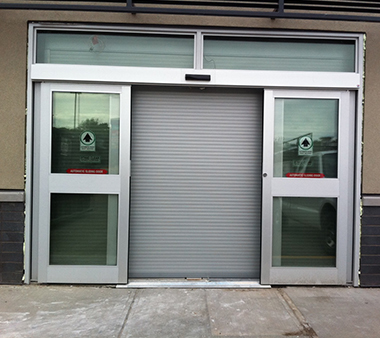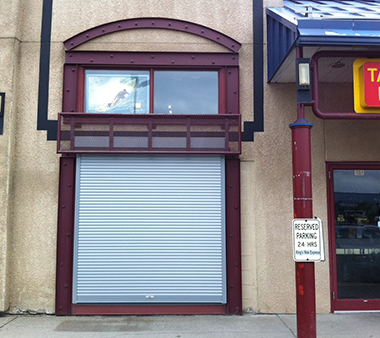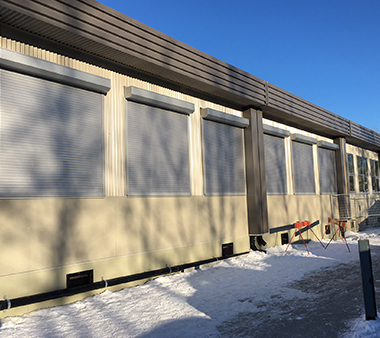 K&F spring-locking rollshutters are ideal for a wide variety of commercial applications. Like our residential and storefront products, K&F's line of commercial rollshutters offer added security and peace of mind, and are custom built to your exact specifications. With double-walled slats and extruded aluminum housing to create a near-impenetrable barrier, our commercial rollshutters are built to last. From schools to hospitality to oil & gas, rollshutters help protect your business and products from vandalism and thieves. Capable of withstanding rain, snow, and almost any environment and weather, our rollshutters are perfect for:
Counter shutters,
Kitchen pass throughs,
Concessions and ticket booths,
Schools and portables, and
Modular units customized for oilfield camp roll-up doors.
Protect your business with a durable commercial rollshutter from K&F. Contact us (← internal link to contact page) today.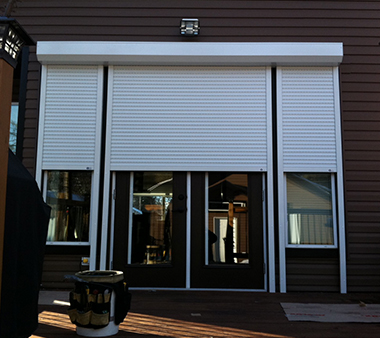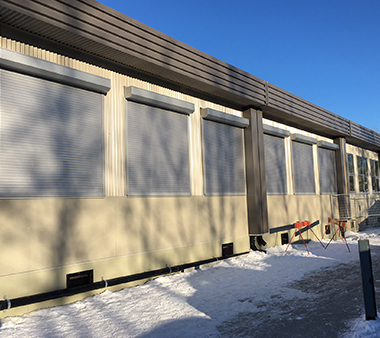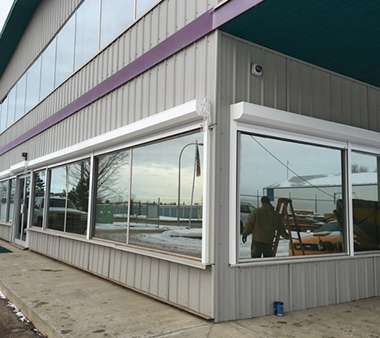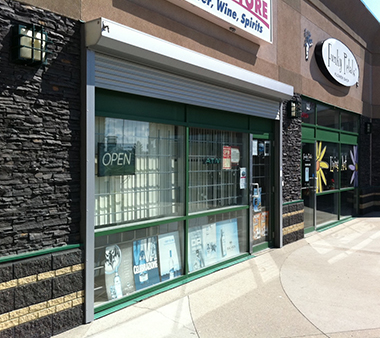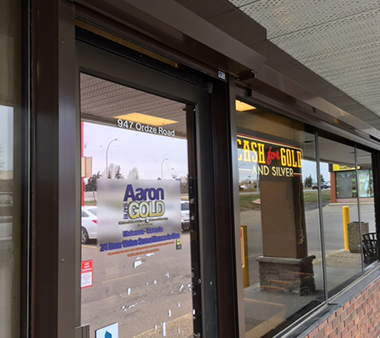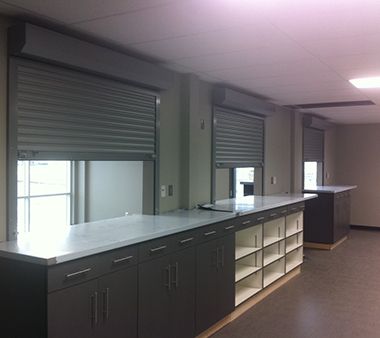 Consult the rollshutter experts at K&F before starting your next project. By integrating rollshutters into new construction from the very beginning, we can ensure the window is designed to accommodate the system. Guide tracks and housing boxes get hidden, making the shutters virtually invisible while open for a perfectly clean, elegant look without sacrificing any of the benefits. You'll still get all the energy savings, noise reduction, and light control, with your choice of manual, motorized, or remote control system. Build comfort, convenience, and security directly into your next residential or commercial construction project quickly and easily with a K&F rollshutter. Contact us today to schedule an appointment.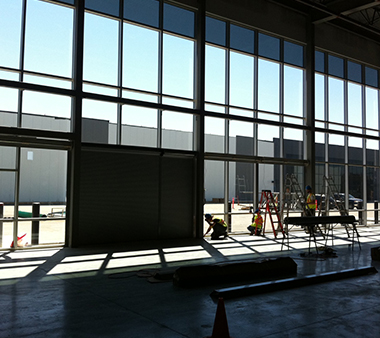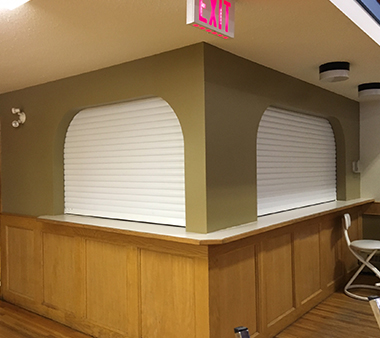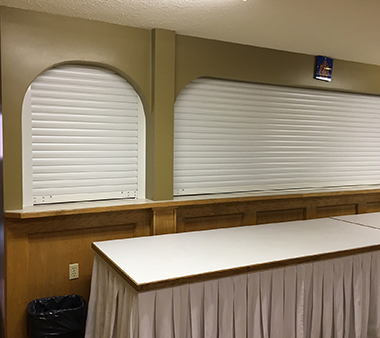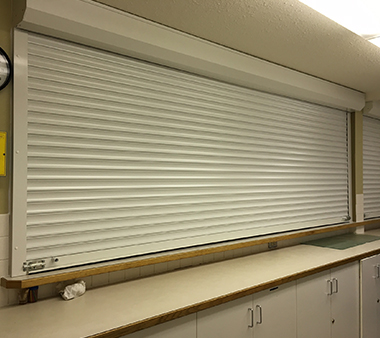 One of the great advantages of K&F's rollshutters is their capacity for near-total customization and functional versatility with applications in a variety of commercial and residential markets. Whether you need a c-can partition or room divider, our rollshutters are a dependable, cost-effective solution. Our extruded aluminum housing boxes and double-wall insulated slats can withstand extensive wear and tear. With front- or top-mounted options available, our 7,500 sq. foot Edmonton facility can size and cut your rollshutter to your exact specifications, and install them with quickly and precisely. Other customization options include motorized, wall switch, or manual operation, and of course a wide variety of colours. Contact us today to schedule a consultation.