Live in superior warmth and comfort during the cold Edmonton winters while still saving on your utility costs. Windows represent the greatest source of heat loss in your house, and protecting them with K&F rollshutters can mean significant savings on heating during the winter. When our superior rollshutters are down and the slats in locked position, rollshutters:
Trap a cushion of insulating air over your windows.

Stop wind and snow before it touches the glass.

Keep the window pane warm, preventing cold drafts.

Are recognized by the Canadian government as a valuable energy-saving system, and homeowners upgrading with them qualify for tax benefits.
Engineered to the specific needs of every project, our insulated slat system is custom-made to fit snugly over your windows and patio doors. Built from sturdy aluminum and finished with an exterior grade enamel, K&F rollshutters are built to withstand the elements for years of unsurpassed service.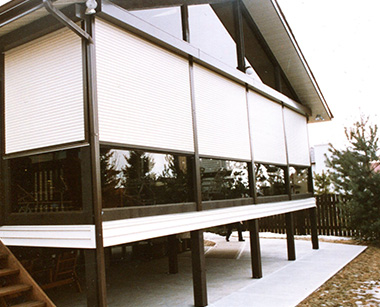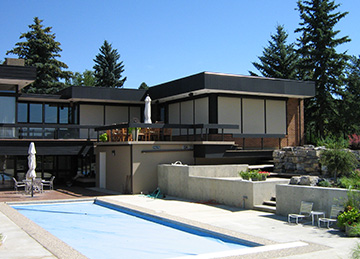 Our custom-built rollshutters don't just help keep you warm in the winter, they can help you beat the heat during the hot summer months. The insulated, double-wall system offers total light control so you can let the bright summer light in or incrementally reduce it to total darkness for cool comfort all summer long. With Alulux rollshutters by K&F, you:
Stop direct sunlight before reaching your window to keep glass cool
Save on air conditioning for lower utility bills
Protect draperies and floor coverings from sun fade damage
Muffle noise for comfort and peace
Keep your home cool and comfortable this summer with a custom-built Alulux rollshutter by K&F. Contact us for a free quote today.
OUR SUPPLIERS
For almost 40 years, K&F Rollshutter Manufacturing has been building relationships with leading suppliers to be able to bring durable, high-quality rollshutters to our clientele. From Germany to France to Italy, we source all our parts from the absolute best providers. Inspired by European designs and built for Canada, K&F rollshutters are custom-built and offer second-to-none performance.