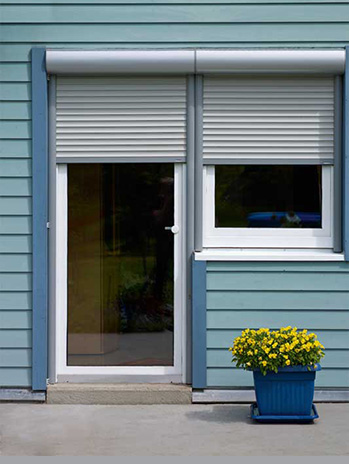 K&F ROLLSHUTTERS EDMONTON EDMONTON'S ONLY ROLLSHUTTER MANUFACTURER
Since 1976, K&F Rollshutter Manufacturing has been bringing secure, energy-efficient rollshutters to dealers, homes, and business across Canada. Locally-owned and family-operated, our 7,500 sq. foot facility can manufacture custom rollshutters to any size, and our bonded technicians are experienced with building, installing, and servicing rollshutters for every purpose. Whether you're looking for residential, storefront, or commercial rollshutters, we can handle any job.
Building the best rollshutters starts with the best components. Our aluminum housing boxes and curtain slats with exterior-grade baked enamel finishes have all been engineered by Alulux of Germany, a leading name in the massive European rollshutter market. Combined with Somfy of France's world class electric drives and Gaviota's drive shaft axles and springs, our custom-fabricated rollshutters offer you superior light-control, utility savings, and security.
In fact, we're so sure of our rollshutters' durability, we provide a full warranty and after-sales service on all parts and workmanship, with a one year complete warranty on systems we build and install. Exterior finishes and labour are backed by a 3-year full replacement warranty and all electric parts are covered by a 5-year warranty.



"I was extremely impressed with the installation and the final product which works flawlessly. I am a shift worker and enjoy the cool, quiet darkness when sleeping in the daytime. I would not hesitate in referring my friends to your business and plan to finish the remaining windows in my house in the same manner" – Dennis Monpetit
"K&F Rollshutter has provided me with the best service I have ever had over the years while building my house. A big 'thank you' to the K&F team!" – Terry Hutseal
"Just would like to say that your installers were very professional, polite, and did a great job. This was by far one of the best contractors I have ever hired, from the phone call to the install. Thank you!" – Dwayne Babee
"Just a quick note of thanks for the speedy dispatch of, and professional service from your repair team. They return to base with a cheque and my gratitude. Even though the product in question was more than 30 years old, they were able to effect and adequate fix and there is once again sunshine in my living room. " – Mark Nixon